Buying new tires will be on your to-do list eventually, if you drive a car, pickup truck or SUV on the roadways of northern Utah.
No one looks forward to the time and expense involved in this process. But, because both the tread and the sidewalls must be in good shape to keep you safe, it's a fact of life you probably can't avoid. At the same time, you don't want to spend money if you don't have to.
That's why you need to be able to determine when it's time for new tires.
Check Your Tread Depth
The rubber tread on your tires should be at least 1.6 millimeters or about 1/6 of an inch. Any lower and you're running on a dangerous level of wear.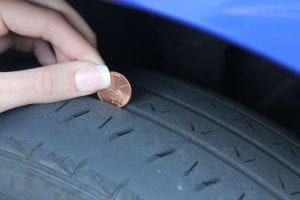 You can test this easily using a penny coin. Turn Abe Lincoln's head downward and insert the penny into the tread. If you can still see his head, it's time to visit your local tire shop.
Be sure to check all four tires, preferably in two or three spots around the tire. If your car's alignment is out, tire wear may be uneven. Checking all four wheels will ensure you aren't running on a dangerous tire unsuspectingly.
If your tires are newer, they may even have a tread wear indicator on them. Look for a little bar (like a "minus" sign) that runs perpendicular to the tread direction. When that bar wears away and disappears, it's time.
Check for Signs of Wear
Periodically look for any obvious worn patches on your wheels, or places where the steel belting may be sticking up. These are both strong signs you need to visit the tire shop immediately.
Check the sidewalls too. Look for any obvious damage such as cuts or slices, nails, tacks, etc. These don't always result in an immediate flat. Watch for cracks in the sidewalls too, as these are a strong indicator that problems are imminent.
Check the Age of Your Tires
Your vehicle's manufacturer likely recommends that you replace your tires at least every six years. Tire manufacturers' recommendations vary based on the type and quality of the tires, but most say every 10 years at the most.
In northern Utah, our extreme weather conditions make take their toll sooner rather than later, as both heat and cold can hasten the degradation of rubber tread.
Also, if you've had repairs in the past, your tires may need to be replaced sooner. Although repairs can hold up for months or years, they're not meant to be a permanent solution.
Ask a Trusted Auto Repair Shop
If you don't have a penny handy, or if you'd rather not take the risk, visit your local auto repair shop.
In Midvale, trust the RUSH Diesel & Automotive team for all your tire and wheel needs. We sell and install all the brands you know and trust. We also perform tire rotation, balancing and repair. Our prices are the bests you'll find and we promise to have you in and out as quickly as possible.
Our friendly, helpful technicians are always on hand to take a look at your car. Stop by our Midvale auto repair shop location today and we'll be happy to let you know if it's about time for you to install new tires on your vehicle.